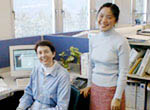 Teradyne Inc. is a Boston, Massachusetts based company specializing in Automatic Test Equipment (ATE) for the semiconductor, telecommunications, software, and printed circuit board markets. With 1997 sales of $1.25billion and over 7000 employees, Teradyne serves a worldwide customer base. The highly complex equipment used to test semiconductors represents the largest business segment in the company. The company maintains a significant yearly investment in R&D to support a continuing leadership position in developing production test equipment for the fast changing semiconductor industry. In Japan, Teradyne employs over 200 people. Principle office locations are in Tokyo and Osaka for sales and service and in Kumamoto for product design, marketing and manufacturing.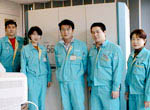 Teradyne established its first overseas Division dedicated to the design, marketing, and manufacture of semiconductor ATE in Kumamoto in 1994. Prior to 1994, the Division operated as a small "start-up" group in the Tokyo area. While the Tokyo area offered an easy venue for starting the organization, we quickly ran into the bottleneck of having difficulty recruiting talented engineers from top Japanese universities. In our business, the sophisticated nature of our equipment and the fast pace of change of technology require a top flight engineering group to maintain a leading position in product development. Given the wealth of choices a new graduate engineer has in the Tokyo area, it was difficult for Teradyne to compete with NEC, Toshiba, etc. in college recruiting. However, Kyushu offers us some distinct advantages.

First, there are several national universities in Kyushu with top engineering schools. Historically, many of the graduates have been forced to relocate to Tokyo or Osaka due to limited opportunities in Kyushu. Teradyne gives these graduates the chance to engage in state-of-the-art development work in Kyushu. Second, being one of only a few foreign high-tech companies in the region gives us a unique recruiting pitch and appeal to a group of students who may be looking for the kind of opportunities a foreign company can provide. College recruiting results to date have been very successful. We are hiring BSEE, MSEE, and PHD graduates from the top Kyushu universities every year.

In addition, the lower cost structure, abundant land, proximity to customers, and an established base of subcontractors make Kumamoto a perfect fit for our operations. We are in the process of doubling the size of our current facility and securing additional land for our next round of expansion.