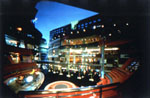 The founding of Hyatt dates back to 1957 when Mr. Jay Pritzker went to a hotel in Los Angels by the airport to spend the time until the business meeting. Impressed by the food and the service, he bought both the hotel and its name Hyatt by the end of the business trip. In a vast period of time, Hyatt grew larger in size and reputation.

In 1969, Hyatt established their international company and opened their first hotel in overseas, Hyatt Regency Hong Kong. In the next 20 years, Hyatt International, a company to manage its overseas hotels, expanded to managing 60 properties including the flagship hotel -the first Grand Hyatt- opened in Hong Kong.

Today, there are two Hyatt Companies. Hyatt Hotels Corporation is in charge of managing properties within U.S. It is now one of the most important hotel chains in the United States. Hyatt International has 72 hotels in 34 countries and is still growing at the rate of four to five properties a year. To match the different market in different locations, there are four major brands of Hyatt International Hotels.
Hyatt Regency Hotels, the core brand, are deluxe hotels catering to individual travelers and the meeting market.


Grand Hyatt Hotels are the super-deluxe hotels catering to upmarket individual traveler and the meeting and convention market. There are currently 11 Grand Hyatt hotels, 7 properties under development in key gateway cities including Fukuoka.


Park Hyatt Hotels are the smaller, luxury, city center hotels for the individual traveler. They are designed to reflect the elegance of a small European hotel.


Hyatt Resorts are the ultimate resort hotels for the holiday guest and offers a full range of leisure facilities.
In addition to new property expansion, Hyatt International is constantly introducing new ideas. Its service, technology, design, restaurant and bar concepts are constantly innovative, striving for new and better hotels. This is what makes the Hyatt successful and exciting hotel chain today.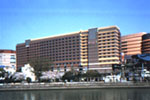 Grand Hyatt Fukuoka is the first fully international hotel located in Kyushu. As Fukuoka gained worldwide reputation, the city needed a hotel like Hyatt. We are presenting multinational relaxing space and service to make anyone feel at home. Our guests are not only Japanese but also foreigners from many parts of the world.

There are many unique concepts at Grand Hyatt Fukuoka. Guest rooms are furnished with the blend of western and Japanese styles, so both Japanese and foreign guests can feel at home. The distinguished wedding style gave a strong impact among the Kyushu market. Exquisitive flower arrangement, European food and chefs, Crystal chapel, Japanese shrine are some of the secrets to our successful wedding sales.

We have a total of 13 restaurants and bars where we serve authentic tastes of the world. It's where the world meets to eat.

As well as good hospitality, guests ask for enough amenity & resort facility. Grand Hyatt Fukuoka is set in the heart of Canal City Hakata which is a huge theme park, featuring 13 film theaters, a large musical theater and over 100 shops and restaurants. Japanese marketing magazine Nikkei Trendy has chosen our hotel as the best hotel in Fukuoka. This included service , facility and covered all.

Grand Hyatt Fukuoka is the hotel with perfect futuristic style in Kyushu.