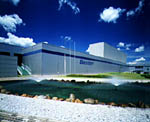 At Baxter, we are a global leader in delivering critical therapies for life-threatening conditions. All of our technologies are related to the blood and circulatory system. The company's blood therapies businesses make products that collect, separate and store blood, as well as
therapeutic proteins derived from blood. Our renal products cleanse the blood. Our cardiovascular products keep blood pumping through the body, and our intravenous (IV) products infuse drugs and other solutions into the blood.

GLOBAL EXPERTISE
Baxter's operating experience extends to nearly every type of political and health-care system in the world. This experience translates into tremendous global penetration--more than 50 percent of our sales come from outside the United States, and represent our fastest-growing markets. Baxter products are sold in more than 112 countries, and its operations form a network that spans the globe.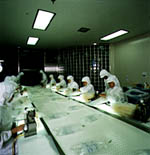 Baxter is the world's leading medical-technology company that continues to contribute to the world by saving lives and enabling high-quality life through providing best products and services, continuously incorporating innovative technologies and excellent cost-effective medical care.

In Japan, the company is devoted to promoting the new "home-care system" and offers support to patients' return to social life by manufacturing and providing CAPD (Continuous Ambulatory Peritoneal Dialysis) and artificial cardiopulmonary circuits that are capable of cutting increasing medical costs and upgrading the lives of long-term hospitalized patients.

With the growing need of CAPD in Japan developed first in the world by Baxter U.S., the company opened its plant in Miyazaki High-tech Park in Miyazaki, Kyushu, in February 1990, in order to establish a strong manufacturing basis for CAPD-related products in Japan.

Our Miyazaki plant in Kyushu, blessed with beautiful natural environment and location, has served as a pulling force in the health-care field with stable supply of excellent products and R & D of better products.

In planning to open our plant in Kyushu, we tried to gather all the information we needed especially concerning the quality and quantity of manpower, and those of water crucial for our products, infrastructure, price of land, etc. We found that Kyushu had them all. High-quality labor that has returned to Kyushu from
metropolitan areas and ample water of excellent quality have enabled us to stably produce high-quality products. Furthermore, excellent transportation access covering the land, sea and air ensures quick distribution of our products anywhere in the country.

We are also attracted to Miyazaki High-tech Park, where our plant is located. It is the second largest research town in the country where industry, academic research and living space are integrated. Miyazaki Prefecture invites bio-technology companies aspiring for research, making it an accummulating site of high
technologies. Within its scope are future joint researches with the adjoining Miyazaki University and Miyazaki Medical University.