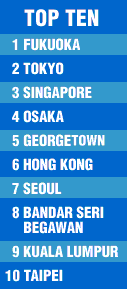 "It has mountains on one side, a calm bay on the other, and tree-lined rivers running through town. It has big department stores and streets full of small shops. It has a baseball team, a soccer team and an annual sumo tournament. It has a Blue Note jazz club, a Broadway-style theater -- and a well-patronized red-light district. It has an international airport and a bullet-train terminus. Best of all it doesn't have 20 million people living on top of each other. To its residents, Fukuoka is not too big, not too small, but juuust right. "You can bicycle from one end to another -- not a big city, but one with everything you want," says native Ezaki Hiroko.

Fukuoka sits on northern Kyushu, Japan's westernmost major island. The city of 1.3 million people may not have the business and cultural weight of Tokyo and Osaka, nor the history or scenery of nearby Nagasaki and Kagoshima. But what it has is a modest charm, and a willingness to try new things. Maybe because Fukuoka was for millennia a port of entry for Korean and Chinese culture. Maybe because its population is the second youngest in Japan. "Companies like to test market products here, because if it sells in Fukuoka it will sell in the rest of Japan, "says Hiroshi Seto of the local Chamber of Commerce.

One new development is Canal City -- a futuristic mall with explosive fountains, trendy shops and a 13-screen movie complex -- that opened last year. The cinemas are a case in point. No Japanese company wanted to open such a large operation, so the developers turned to a U.S. outfit that had been trying to break into the tradition-bound market for years. The gamble paid off all around. Cinema attendance is up 50% citywide, the mall sparked a retail boom in traditional shopping districts, and officials and buinesses from all around Japan are trooping to Fukuoka to see how the city did it."
By Jonathan Sprague

(Excerpt from the December 5, 1997 issue)
(With the courtesy of Asiaweek)